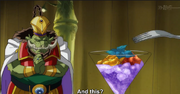 A la planetaise is a cocktail that was made for Beerus by chefs assembled from across the galaxy. It is fully organic and is made from natural pasteurized milk. Apparently, it is very tasty but has a lot of fat content.
Beerus' dissatisfaction with the cocktail lead to him destroying half the planet he was on. 
Ad blocker interference detected!
Wikia is a free-to-use site that makes money from advertising. We have a modified experience for viewers using ad blockers

Wikia is not accessible if you've made further modifications. Remove the custom ad blocker rule(s) and the page will load as expected.