This article is about the
real world.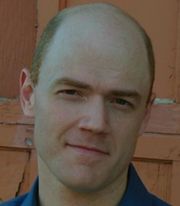 Aaron Roberts (born November 12, 1979 in Jacksonville, Florida) is an American voice actor who works mainly with Funimation. He lives in Dallas, Texas. He was the English dub voice for Hit in Dragon Ball Xenoverse 2, however, he was replaced by Matthew Mercer as Hit's voice for the English dub in Dragon Ball Super but he still has a role in the anime.
Roberts is well known for voicing Uta in the Tokyo Ghoul anime, as well as Sunny in Toriko. He is also known for voicing Grimsby Keane in Black Butler, Natsuhiko Koyama in Assassination Classroom, and Samuel in Fairy Tail.