Afterimage Strike
Talk

0
4,934pages on
this wiki
Directory: Techniques → Supportive techniques → Movement techniques
Afterimage Strike[2] (多重残像拳)[1] is a technique in which the user distracts his/her opponent with several afterimages.
When the opponent attacks a false image, the user dodges the attack. Contrary to the regular Afterimage Technique, the Afterimage Strike allows the user to dodge more than once.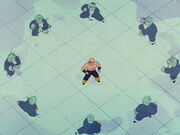 Jackie Chun performs the Afterimage Strike during the 21st World Martial Arts Tournament. He spins around his opponent, leaving a lot of afterimages of himself. In this form, it is hard to tell which one is the real Jackie Chun.
Goku adapts this technique in the 21st World Martial Arts Tournament, and is able to produce more afterimages than Jackie Chun, fooling him with his own attack. While Goku is trying to grab the Sacred Water from Korin, he uses the Afterimage Strike, but Korin tricks Goku to reveal himself: Korin makes his own afterimage for Goku to hit and just fall to the ground. Shortly after the 22nd World Martial Arts Tournament, Goku uses the Afterimage Strike against Tambourine.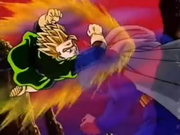 Dabura uses a demonic version of the technique during his battle against Gohan, the Afterimage Sorcery (残像 魔術, Zanzō Majutsu).[1] After Gohan dodged his Evil Flame, Dabura uses the technique to dodge Gohan's counterattack. Reappearing on the other side of the battlefield, Dabura arrogantly says "Looking for me?!" and he fires the Evil Impulse to blast Gohan into the ocean. Although Goku, Gohan, and Krillin are all capable of performing the same move, Gohan still falls for the technique, leaving the green robe around his outfit ruined.
Afterimage Strike was named in the Budokai Tenkaichi series and the Raging Blast series, where it is a Blast 1 technique used by several fighters. The technique lasts for 15 seconds.
References
Edit