Android 21 (人造人間21号, Jinzōningen Nijūichi-Gō) is an Android who appears as the main antagonist of Dragon Ball FighterZ. Her intelligence rivals that of Dr. Gero,[1] though she may be even smarter than he was.[2]
Android 21 was designed by Akira Toriyama.[3]
Appearance

Android 21 is described as a busty scientist with glasses and long bushy auburn hair. She has a gold ring on her left middle finger, and black nails. She wears a pair of hoop earrings, a sleeveless, blue and red short dress with black stockings, black arm sleeves, and blue and red heel boots. Her eyes are similar to that of Dr. Gero's Androids, such as Android 18.
In her transformed state, Android 21's skin turns pink, her ears pointed, her eyes red with black sclera and gains a tail. Her attire changes to a black tube top, keeping the black arm sleeves, and also gaining white baggy pants. It's noted that she resembles a Majin in this form.
Personality
From the first trailer, Android 21 seems like a kind and motherly woman who was concerned about Android 18 and agreed to help her. However, in the story trailer, she is revealed to be nothing but a sadistic and power-hungry sociopath, wanting to "devour" all the powerful fighters. Her glutinous lust for "devouring" powerful fighters is somehow similar to the traits of the Majins.
While transformed, she acts very similarly to Majin Buu, however when in battle, she acts much more aggressive and dangerous, similar to Kid Buu. She is friendly towards the good Majin Buu.
Biography
Dragon Ball FighterZ
She was a researcher employed by the Red Ribbon Army.
Power
She can compete with the series' strongest fighters.[2]
Techniques and Special Abilities
Hungry Beam - A move Android 21 uses to turn people into food.

Hungry Time - Android 21's Level 3 Super, which is said to work like Majin Buu's.

Tasting Cut - A move that lets Android 21 absorb an opponents energy and use their moves.

Solar Flare - One of the moves Android 21 can use after using Tasting Cut. Taken from Krillin.
Kamehameha - One of the moves Android 21 can use after using Tasting Cut. Notably hers is black and red.
Forms and Transformations
Majin-looking form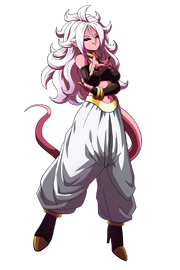 Android 21 is able to transform into a form that resembles a Majin in body color and attire, though she also possess white hair and spiked ears similar to the Demon Realm race and a tail similar to final form Frieza.
Voice Actors
Gallery
References