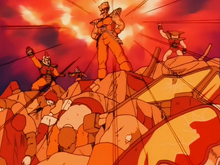 Attack on Bun's planet is an attack administered by Cui, one of Frieza's elite henchmen. He and a group of Galactic Frieza Army soldiers invaded the planet and killed several people. At one point in the conflict, Cui found and scarred Bun in the face. A group of children from the planet, which include Bun and Zeshin, were able to get away by using invisible spaceships. It is unknown whether the planets that was conquered under Frieza's reign, or if the planet was obliterated rather than conquered.
Gallery
Ad blocker interference detected!
Wikia is a free-to-use site that makes money from advertising. We have a modified experience for viewers using ad blockers

Wikia is not accessible if you've made further modifications. Remove the custom ad blocker rule(s) and the page will load as expected.