Awakening
Talk

11
4,913pages on
this wiki
Dragon Ball Z episodes
Awakening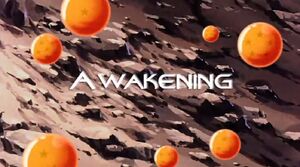 "Nothing is holding Gohan back now. He's finally learnt how to tap into his power at will."
— Piccolo.
Awakening (吹き荒れる真の力!!セルジュニア粉砕, Fukiareru Shin no Pawa!! Seru Junia Funsai), previously titled The Unleashing, is the twentieth episode of the Cell Games Saga and the one hundred eighty-fifth overall episode in the uncut Dragon Ball Z series. The episode first aired on May 12, 1993. Its original American air date was December 13, 2000.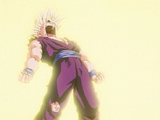 Enraged with Cell for killing the good-natured Android 16, and the Cell Jr.'s beating of his friends and father, Gohan's hidden power erupts, transforming him into a second level of Super Saiyan, later called Super Saiyan 2. Gohan approaches Cell. Cell, after going through the initial shock of Gohan's transformation, calms down and decides that this would make a good game fighting him. However, Gohan, after saying "No games", takes back the Senzu Beans that Cell had stolen from Krillin earlier in a speed fast enough to catch Cell off-guard. After dodging Cell, Gohan decapitates a Cell Jr. with one swift blow, much to the astonishment of Cell and the Z Fighters.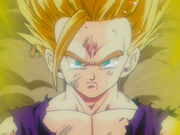 Gohan then continues to destroy all the Cell Juniors effortlessly, and leaves the Senzu Beans with Trunks to be given to the injured Z Fighters. After saving his friends from the vicious Cell Juniors, Gohan is prepared to face Cell himself.
Gohan (Super Saiyan 2) vs. Seven Cell Juniors
Techniques used
Edit
This episode marks the first scenes involving a Super Saiyan 2.
Gohan actually kills eight Cell Juniors in this episode, even though Cell only creates seven of them. This is most likely an error in production.