This article is about the
real world.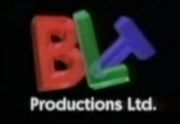 BLT Productions Ltd. was the Canadian production company that co-produced the first 13 dub episodes of Dragon Ball with FUNimation and Ocean Group in 1995.
Company information
BLT Productions Ltd. is a privately owned film and television production company based in the city of Vancouver on the westcoast of Canada. BLT was founded in 1991 by television and live-event producer Josanne B. Lovick, a Production Executive who worked alongside Adam Whittaker, to develop and produce her own productions as well as offering a variety of production services to outside producers.
Other shows
The company also co-produced season one of the Canadian CGI-animated television series ReBoot.
Gallery
See also