Battle of the Eight
Talk

0
4,913pages on
this wiki
Dragon Ball episodes
Battle of the Eight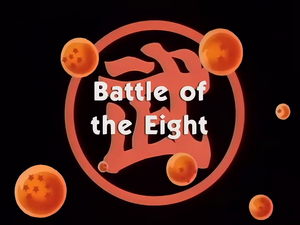 Battle of the Eight (選ばれた8人, Erabareta Hachinin) is the thirteenth episode of the Piccolo Jr. Saga and the one hundred thirty-fifth episode in the Dragon Ball series. The episode first aired on November 23, 1988.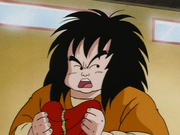 Through the course of the preliminaries, the heroes (beside Chiaotzu), Piccolo, and Cyborg Tao progress though their matches. Yajirobe's opponent is a sore loser and throws a fire extinguisher at him. Goku, Tien Shinhan, Krillin, Yamcha, Piccolo, and Tao are all announced to move on to the semifinals. Chi-Chi has also made the semifinals. Yajirobe faces a weak-looking opponent (Hero). The man embarrasses himself repeatedly. He seems to win by accident, and knocks Yajirobe out of the semifinals. Embarrassed, Yajirobe leaves the World Martial Arts Tournament.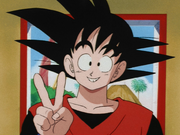 The World Tournament Announcer panics because he saw Krillin die, yet Krillin stands in front of him. The semifinal match-ups are: Tao/Tien, Goku/Anonymous (Chi-Chi), Krillin/Junior (Piccolo), and Yamcha/Hero.
Launch clears out a spot in the front row for the group. Turns out, Yajirobe did not leave the tournament yet, and is watching Goku. Before Tien enters the ring, he and Yamcha pass an understanding of some kind. Tao informs Tien that he will not kill Tien, only wound, so he can progress in the tournament, and the match begins.
The announcer says that they would move on to the semi-finals when they were really going on to the quarter finals.
Goku refers to Mercenary Tao as "General Tao" after the group finishes talking to Master Shen.