This article is about the
real world.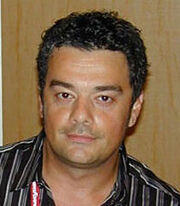 Brian Dobson (born September 9, 1973 in Steadfast, England) is the third of three brothers, the others being Paul and Michael, who are well known for their talent as voice actors.
He voiced Future Gohan, Dr. Gero, Vodka, Super Buu and Kid Buu in the Ocean Group dub of Dragon Ball Z.
Some of his other roles include Garma Zabi in the Mobile Suit Gundam series, Searchman in Megaman NT Warrior, Red Alert in Transformers: Armada, and Ben Grimm/The Thing in the Fantastic Four animated series (2006).
Ad blocker interference detected!
Wikia is a free-to-use site that makes money from advertising. We have a modified experience for viewers using ad blockers

Wikia is not accessible if you've made further modifications. Remove the custom ad blocker rule(s) and the page will load as expected.