Bubbles
Talk

2
4,938pages on
this wiki
Directory: Characters → Animals → Z Fighters support
Bubbles (バブルス) is the monkey pet and friend of the North Kai (better known as "King Kai"). He serves a special purpose during King Kai's training lessons, particularly one of two endurance tests, where trainees are instructed to chase after Bubbles in an effort to catch him. Though the task may seem simple at first, there is a catch: the gravity on King Kai's planet is ten times that of Earth, and Bubbles is perfectly used to it.
Biography
Edit
Dragon Ball Z
Edit
When Goku finally arrived on King Kai's planet, he first thought Bubbles was King Kai and he thought he would have to act like a monkey to begin the training until the real King Kai shows up. Goku was then forced to catch Bubbles as part of King Kai's training. This forced Goku to push himself in a gravitation 10 times that of the Earth.
Goku spends 40 days working on this test, while Piccolo, who is later killed by Nappa and is sent to train with King Kai in Other World, manages to catch Bubbles almost effortlessly (as during the year Goku spends running Snake Way and training with King Kai, Piccolo has been training both in solitude and with Gohan). This causes King Kai to outburst that Piccolo should know that Bubbles' test was not meant for him, but for Yamcha, Tien Shinhan and Chiaotzu.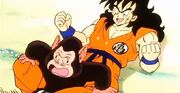 He was later killed when Cell self-destructed on King Kai's planet.
Dragon Ball Z movies
Edit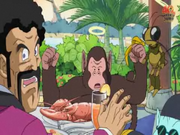 Bubbles makes an appearance in the 1993 OVA Dragon Ball Z Gaiden: Plan to Eradicate the Saiyans, in the 1993 film Dragon Ball Z: Bojack Unbound during scenes in the Other World where he is accompanied by King Kai, Goku and Gregory, and in Dragon Ball Z: Broly - The Legendary Super Saiyan.
He appears at the end of the movie Dragon Ball Z: Bio-Broly, on Grand Kai's planet, telling Goku that Broly is acting up in Hell, and that Pikkon and Goku need to take care of the situation.
Bubbles also makes an appearance on Earth at Mr. Satan's banquet in Dragon Ball: Yo! Son Goku and His Friends Return! along with King Kai and Gregory. He back on King Kai's planet in Dragon Ball Z: Battle of Gods.
Dragon Ball GT
Edit
In Dragon Ball GT, Bubbles is seen with King Kai and Gregory on the roof of Grand Kai's mansion when King Kai assists Goku in forming the Universal Spirit Bomb to defeat Omega Shenron.
Video game appearances
Edit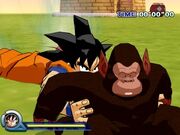 Voice actors
Edit