Bunny costume
Talk

9
4,913pages on
this wiki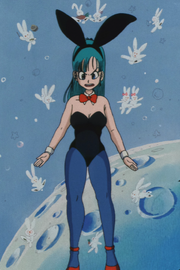 The Bunny costume is a revealing outfit for females that resembles a bunny.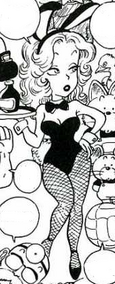 The costume has six pieces: a black headband with black rabbit ears, a white shirt collar with a red bowtie, a black leotard with a white cotton tail, a pair of blue tights, a pair of red high heels with ankle-straps, and a pair of white shirtcuffs.
Oolong had stored this in his House-Wagon. Bulma had no choice but to wear this as it was the only clean clothes around that fit her. The costume also made people in Monster Carrot's Village think that Bulma was part of the Rabbit Mob.
Two random women are also seen wearing them in one of Master Roshi's daydreams.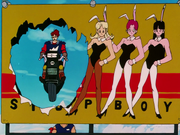 In the Dragon Ball Z episode "Closing In", there is a billboard showing three women wearing a bunny costume, albeit without the blue tights, red bowtie, and ankle-straps. Also, their high-heels are black and the bunny ears are white.
Other media
Edit
Dr. SlumpEdit
Penguin Village Middle School has a gentleman's club which has a blonde woman wearing this costume in Dr. Slump, but instead of blue tights, the woman has fish nets.
Video Game appearances
Edit
Bulma is seen wearing it in Dragon Ball: Advanced Adventure and in Dragon Ball: Origins. In Dragon Ball Z: Budokai 2, one of the six costumes Bulma can be seen wearing at the capsule shop is the Bunny costume.