This article is about the
real world.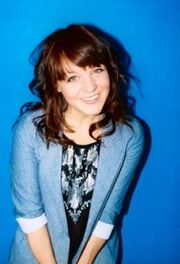 Caitlynne Elizabeth Margaret Medrek (Ukrainian: Кетлін Елізабет Маргарет Медрек; Polish: Katarzyna Elźbieta Małgorzata Mędrekowna; born November 19, 1989) is a Canadian radio, voice, theater and film actress. She voiced Pan for the Blue Water dub of Dragon Ball GT. Her other notable roles are Dawn in Total Drama: Revenge of the Island, Mikoto in My-Hime, and Miu Matsuoka in Strawberry Marshmallow.
Ad blocker interference detected!
Wikia is a free-to-use site that makes money from advertising. We have a modified experience for viewers using ad blockers

Wikia is not accessible if you've made further modifications. Remove the custom ad blocker rule(s) and the page will load as expected.