"Cake Factory" is a Dragon Ball Z theme composed by Bruce Faulconer. It is featured in Best of Dragon Ball Z: Volume 6 - The Lost Tracks of DBZ.
Uses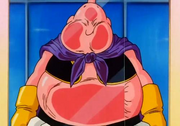 Episode 226/241 "Global Announcement": when Majin Buu raids a Cake Factory, eating all of the cakes.
When Majin Buu picks up a magazine while trying to woo a girl in the city in which Buu subsequently shapeshifts his face into a handsome man. When it backfires, Buu turns the girl into candy and eats it.
When Majin Buu builds his house with the clay he turned people into and starts to enjoy his lifestyle in his new house.