Chain Destructo Disk Barrage
Talk

0
4,938pages on
this wiki
Directory: Techniques → Offensive techniques → Energy discs
Chain Destructo Disk (気円烈斬) is a rapid-fire variation of the Destructo Disk used by Krillin.
First, Krillin charges his energy into a Destructo Disk, then he releases a barrage of Destructo Disks cutting The opponent into parts. Krillin uses this move against Frieza in his second form. After successfully cutting Frieza's tail with a single Destructo Disk, Krillin tries the Chain Destructo Disk against Frieza, but Frieza vanishes at the last second.
Appearances in Video Games
Edit
Chain Destructo Disk was named in Dragon Ball Z: Tenkaichi Tag Team. It appeared under the name "Destructo Disk" in the English versions of the first three games of the Budokai Tenkaichi series, while it is called Kienretsuzan (the Japanese name of "Chain Destructo Disk") in the Japanese versions. Kienretsuzan is also the name of this technique in the Butōden series.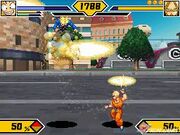 It is named Continuous Destructo Disk (連続気円斬, Renzoku Kienzan) in Dragon Ball Z: Legend of the Super Saiyan and Dragon Ball Z: Goku Hishōden, Fierce Destructo Disc in the Budokai series, Super Destructo-Disk in Super Dragon Ball Z, Rapid-Fire Destructo Discs (気円斬連射) in Dragon Ball Z: Supersonic Warriors and Dragon Ball Heroes, and Chain Destructo-disc Barrage in Dragon Ball Z: Attack of the Saiyans.
In Dragon Ball Z: Supersonic Warriors 2, the technique is called Kienrenzan, and can be used by both Krillin and Semi-Perfect Cell.
It is called Consecutive Disks in the computer game Dragon Ball Online, where it appears as a spiritual attack of the Turtle Hermit skill tree, learned at level 48. This a rapid-fire technique leaves the target stunned. Furthermore, it deals 50% of its dealt damage when performed behind the target and has area-of-effect properties.
References
Edit