This article is about the
real world.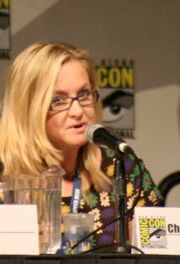 Cheryl Chase (born Cheryl Hudock on December 25, 1958, in Manville, New Jersey) is an American award-winning voice actress, writer and singer.
Biography
She is best known as the voice of Angelica Pickles on Rugrats, All Grown Up!, and Angelica and Susie's Pre-School Daze. Chase's character Angelica Pickles placed number 7 in TV Guide's '50 Greatest Cartoon Characters of All Time' August 2002 issue.
Sometimes credited as Carole Wilder, she voiced Puar (Squeaker) and Arale Norimaki in the Harmony Gold Dub of Dragon Ball. She provided the voice of Mei in the Streamline Pictures dub of the Hayao Miyazaki film My Neighbor Totoro, as well as Sachi in the Katsuhiro Otomo film Neo Tokyo done by ADV Films. Some of her other roles include various characters on The Ren and Stimpy Show, Pubert Addams in Addams Family Values, Pinky in Noozles, Marie in the English dub of Nadia: The Secret of Blue Water, and Nurse in Random! Cartoons.
She also played the voice of the widow on an episode of Ren & Stimpy Adult Party Cartoon, Altruists, as well as additional voices on Foster's Home For Imaginary Friends. She also provided the voice of Betty Boop on the Somewhere in Dreamland (2002) DVD audio commentary. Cheryl Chase is currently the voices of Dewey and Li'l Lynne in the animated series AW PRUNES!