Christopher Owen Ayres (born on May 16, 1965, in Richmond, Virginia) is an American voice actor best known for his work in anime.
Biography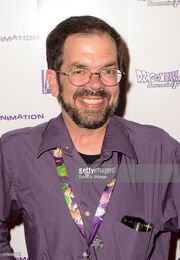 Chris is the brother of Greg Ayres. Unlike Greg though, Chris has had more experience in terms of directing and writing and has even directed theater productions. Occasionally, his surname is listed as Ayers instead of Ayres; however this spelling is incorrect as his legal name is "Christopher Ayres".
He voices Frieza in Dragon Ball Z Kai, and video games from the Dragon Ball franchise from 2010-onwards. He also voiced Frieza in the nineteenth Dragon Ball film, Dragon Ball Z: Resurrection 'F', making his voice sound similar to Frieza's Ocean voice (by Pauline Newstone). He is also known for voicing Garuga in Yu Yu Hakusho: The Movie and has done voices in several Japanese anime films.