This article is about the
real world.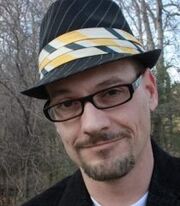 Christopher "Chris" Bevins (born on October 31, 1973, in Los Angeles, California) is an American voice actor and ADR director.
Biography
Bevins is known for being warhorse and visionary ADR director at FUNimation Entertainment. Notably, he discovered the voice actor J. Michael Tatum, who voiced Spice in Dragon Ball Z and Zarbon in Dragon Ball Z Kai. He himself voiced Bee in Dragon Ball Z and Naturon Shenron in Dragon Ball GT.
Filmography
Anime
Aquarion - Apollo
Baccano! - Nicholas Wayne
BALDR FORCE EXE RESOLUTION - Yousuke Kashiwagi
Beck: Mongolian Chop Squad - Beck
Big Windup! - Yoshiro Hamada
Chrome Shelled Regios - Eyelane
Corpse Princess - Kanechika Umehara
D.Gray Man - Johnny Gil
El Cazador de la Bruja - Dr. Heinz Schinder
Fullmetal Alchemist: Brotherhood - Rider, King Bradley (Young)
Fullmetal Alchemist: The Sacred Star of Milos - Tony
Hetalia: Axis Powers - Japan
Initial D - Kenji (Funimation dub)
Jyu Oh Sei - Rada
Kaze no Stigma - Kiyoshi Takamatsu, Shingo Yuki (ep. 1)
Nabari no Ou - Shiranui
One Piece - ChouChou, Jose, Lasso, Lafitte, Kashigami, Jaya, Nola
Ouran High School Host Club - Akira Komatsuzawa
Ragnarok The Animation - Jakk
RIN ~ Daughters of Mnemosyne - Tamotsu Yanagihara
Romeo x Juliet - Mercutio
Rosario Vampire - Kubisaku Nagai
The Sacred Blacksmith - Hugo Housman
Samurai 7 - Farmer Gosaku
School Rumble - Iwashi Otani
Sengoku Basara - Azai Nagamasa
Sgt. Frog - Nyororo, Robot Dog
Speed Grapher - Ran Yurigaoka
Spiral - Kanone Hilbert
Yu Yu Hakusho - Shishiwakamaru
Witchblade - Hiroki Segawa
Video games
Street Fighter IV - Dhalsim
Street Fighter X Tekken - Dhalsim
Super Street Fighter IV - Dhalsim
Production staff
ADR director
.hack//Quantum
BECK: Mongolian Chop Squad (Co-Directed with Taliesin Jaffe)
Big Windup!
Burst Angel
El Cazador de la Bruja
Heaven's Lost Property
One Piece
Origin: Spirits of the Past (Co-Directed with Taliesin Jaffe)
Princess Jellyfish
The Sacred Blacksmith
Samurai 7
Sengoku Basara: Samurai Kings (Co-Directed with Taliesin Jaffe)
Shigurui: Death Frenzy
Speed Grapher (Co-Directed with Taliesin Jaffe)
Spiral
Witchblade
Script adaptation
Big Windup! (Ep. 7, 10)
Claymore (Ep. 8)
El Cazador de la Bruja (Ep. 1, 4, 10, 15)
Princess Jellyfish
Sengoku Basara
Witchblade
Line producer
BECK: Mongolian Chop Squad
Big Windup!
Burst Angel
Corpse Princess
El Cazador de la Bruja
Jyu Oh Sei
One Piece
Origin: Spirits of the Past
RIN ~Daughters of Mnemmosyne~
Romeo x Juliet
Shigurui: Death Frenzy
Speed Grapher
Witchblade
Documentaries
Adventures in Voice Acting as Himself