Clones are mindless replicas created by Android 21 that appear in the story mode of Dragon Ball FighterZ. They are created from the cells of warriors and are grown quickly in order to be ready for battle as soon as possible.
Overview
They closely resemble the original fighters they were cloned from, but tend to have darker colors, paler skin and red eyes.
Unique amongst the clones are the Clone Kid Buus, who aside from a darker look, possess the personality and traits of Kid Buu and are simply referred to as "Kid Buu" by the characters. This is presumably due to Kid Buu's unique Majin cells.
Clones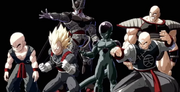 Power
Most clones possess similar but inferior power to that of the fighter they are a copy of, from the time their cells were taken and used to make the clone.
It is hard to determine their strength, as when Gohan encounters a Clone Gohan he says he might have some trouble taking the clone down if he was copied from Gohan when he had his potential unlocked by Old Kai but will be easy to deal with if he's from before Gohan got the Z Sword or from the last time Frieza showed up.
Upon sensing a Clone Tien's energy, Tien notes that his clone possess the same power as him. Piccolo also notes that his clone possess the same power as him.
However Frieza and Cell consider their clones to be inferior though this is presumably due to their ego and belief that they the originals are superior.
Kid Buu clones are the exception as they can grow stronger through absorption though they retain their original Pure Majin form instead of taking on the traits of those they absorb. Additionally their personality, behavior, and power are implied to be close to the original Pure Majin Buu presumably due to the latent power of Kid Buu within their cells being unlocked. However SSGSS Goku and SSGSS Vegeta are certain that the Kid Buu clones cannot handle the power of Super Saiyan Blue as it is superior to Kid Buu's.
Techniques and Special Abilities
Clone Tien
Clone Kid Buu
Forms and Transformations
Clone Goku
Clone Vegeta
Clone Trunks
Clone Cell
Clone Frieza
Clone Buu
Trivia
Gallery