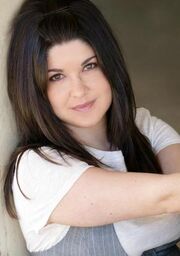 This article is about the
real world.
Colleen Smith Clinkenbeard (born on April 13, 1980, in Shreveport, Louisiana) is an American voice actress, line producer, ADR director, and scriptwriter who works for FUNimation Entertainment.
Biography
Clinkenbeard is known for a wide vocal range, but most frequently plays strong-willed women, femme fatales, or young boys. She made her voice acting debut in Kiddy Grade, playing Éclair.
Clinkenbeard voices Princess Snake in Dragon Ball Z, Zangya in Dragon Ball Z: Bojack Unbound, Mai in the Budokai Tenkaichi video game series and Dragon Ball Z: Battle of Gods, and additional voices in Dragon Ball GT. In Dragon Ball Z Kai, she replaces Stephanie Nadolny as the voices of both the child and teen versions of Gohan and the child version of Goku, and Meredith McCoy as the voice of Android 18.
She also provided the voices of Inner Moka in Rosario + Vampire, Monkey D. Luffy in One Piece, Rachel Moore in Case Closed, Erza Scarlet in Fairy Tail, and Yuko Ichihara in xxxHolic.
Ad blocker interference detected!
Wikia is a free-to-use site that makes money from advertising. We have a modified experience for viewers using ad blockers

Wikia is not accessible if you've made further modifications. Remove the custom ad blocker rule(s) and the page will load as expected.