Continuous Kamehameha
Talk

6
4,937pages on
this wiki
Directory: Techniques → Offensive techniques → Energy waves
Continuous Kamehameha (連続かめはめ波) is a rapid-fire version of the Kamehameha used by Goku. Goku fires the Kamehameha many times at a very rapid rate from both hands, inflicting a great deal of damage.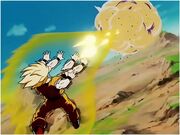 Goku uses several Kamehameha fired one after another during his training on his way to Namek in order to try and block them. He later uses the technique against Frieza during their battle on Namek. He also used the technique against Cell during the Cell Games, against Super Buu (w/ Gotenks absorbed), and as a Super Saiyan 3 against Kid Buu. Very later, Goku uses this technique in his fight against General Rilldo on the planet M-2.
Appearances in Video Games
Edit
Continuous Kamehameha was named in the Budokai video game series, where it can also be used by Adult Gohan and Goten in addition to Goku. It is named Super Energy Wave Volley in the Budokai Tenkaichi series.