Deep Blue Sea
Talk

0
4,924pages on
this wiki
Dragon Ball episodes
Deep Blue Sea
Deep Blue Sea;(ブルー将軍 攻撃開始!!, Buru Shougun Kougeki Kaishi!!; lit. "General Blue; Begins His Attack!!") is the third episode of the General Blue Saga forty-eighth episode in the Dragon Ball series. The episode first aired on January 28, 1987.
Goku, Krillin, and Bulma go after the Dragon Ball. Meanwhile, Commander Red finds the location of the closest Dragon Balls. Then, he orders General Blue to go after Master Roshi and Goku.
After General Blue is given the message, he immediately calls for his men. He splits his soldiers into two groups. As he will lead Company A to go after Goku, he orders Company B, led by Captain Dark, to invade the base, Kame House. He then uses binoculars and analyzes Goku's attempts to find a Dragon Ball, musing to himself that Goku find it, so he could steal it from him. Eventually, he ends up scolding a soldier for coming up on him from behind and warns that it is very difficult to "sneak up on a General and keep [the soldier's] teeth."
Meanwhile, at the Kame House, Master Roshi is up to his perverted tricks as he shrinks himself, using Bulma's shrink watch. Launch accidentally, vacuums the small Roshi, while cleaning the bathroom.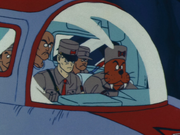 Goku is sent out into the water to try and find the Dragon Ball but to no luck, Bulma then discovers that the Dragon Ball must be in an underwater cave. Krillin then drives the submarine to the underwater cave, and General Blue notices them as they find the cave. The Army fires several torpedoes, which all hit the nearby rocks, as it startles Goku, Krillin, and Bulma. As Krillin drives the machine into the cave, General Blue's gang travel in small submarines and go after them.
During the scene in Commander Red's office where he and Black are playing chess, Commander Red seemingly moves his queen twice (in a non-deceptive fashion) to checkmate his foe. Moving twice is an illegal move under any circumstance of the game. However, it is possible that Black made his move off-camera.
It is shown in this episode that General Blue's men may not be as evil as the higher ranking officials, as portrayed when a soldier cringes when General Blue executes a submarine pilot.