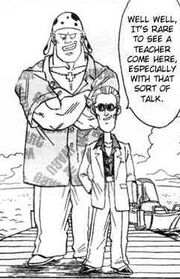 Dog Dragon Gang (Inumaru Gang) is a group in Nekomajin. They come to Kojiro's village on an annual basis to buy Nekomatsutake, mushrooms only found in Kojiro's village. Pochimura, a large brutish member of the gang, is used as muscle to threaten villagers. Pochimura and the unnamed man are the only known members the gang.
Known Members
Unnamed man (possible leader)
Ad blocker interference detected!
Wikia is a free-to-use site that makes money from advertising. We have a modified experience for viewers using ad blockers

Wikia is not accessible if you've made further modifications. Remove the custom ad blocker rule(s) and the page will load as expected.