This article is about the
real world.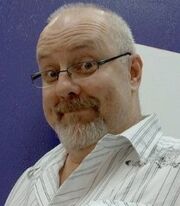 Doug Burks is an American voice actor who has worked for FUNimation Entertainment, and voiced Nicky in the movie Dragon Ball Z: Dead Zone, and Raspberry in Dragon Ball Z.
Some of his other roles include Tokugawa in Baki the Grappler, and has worked on several other anime, including Case Closed (Detective Conan) and Fairy Tail.