Dragon Ball: Bouken Special
Talk

0
4,910pages on
this wiki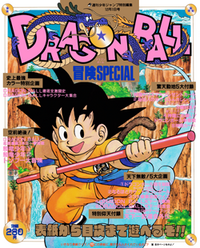 The Dragon Ball: Bouken Special (ドラゴンボール 冒険SPECIAL; lit. "Dragon Ball: Adventure Special") is a one-shot magazine about Dragon Ball. It was released with a special Shonen Jump issue in December 1, 1987.
Dragon Ball: Bouken Special is essentially the earliest guidebook devoted to the Dragon Ball series, and the only Dragon Ball anime-related special magazine. It was released one day before the episode "The Dodon Wave" aired on TV, and shortly after the Dragon Ball manga's 150th chapter was released, midway through the King Piccolo Saga. It covers the beginning of Dragon Ball up to this point in the King Piccolo Saga.
The Bouken Special is the source for much of the extra character background information later incorporated into Daizenshuu 7. The book covers a wide range of subjects; such as Dragon Ball secrets, special background info on the characters, the manga-creating process in general, and even Akira Toriyama's love life.
It notably contains reprints of Akira Toriyama's Dragon Boy and The Adventures of Tongpoo, two one-shots which were used as prototypes for Dragon Ball. It also features games, a look at Oolong and Puar's school days, and Q&A with Akira Toriyama.