Ad blocker interference detected!
Wikia is a free-to-use site that makes money from advertising. We have a modified experience for viewers using ad blockers

Wikia is not accessible if you've made further modifications. Remove the custom ad blocker rule(s) and the page will load as expected.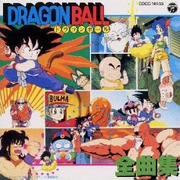 Dragon Ball: Complete Song Collection (ドラゴンボール全曲集, Doragon Bōru Zenkyokushū), is the second official soundtrack from Dragon Ball.
It was released in October 21, 1991 by Columbia Records of Japan after Dragon Ball had ended.
Track listing
魔訶不思議アドヴェンチャー! Makafushigi Adobenchā!/Mystical Adventure!
ロマンティックあげるよ
Romantikku Ageru yo/I'll Give You A Romantic Night
​めざせ天下一
Mezase Tenkaichi/Aim to Be the Greatest On Earth
​ドラゴンボール伝説
Doragon Bōru Densetsu/Dragon Ball Legend
​Mr.ドリームを探せ
Mr. Dorīmu o Sagase/Hunt for Mr. Dream
​青き旅人たち
Aoki Tabibito-tachi/The Blue Travelers
​不思議ワンダーランド
Fushigi Wandārando/Mystery Wonderland
​武天老師の教え
Muten Rôshi no Oshie/Teachings of Muten Roshi
​孫悟空ソング
Son Gokū Songu/Son Goku Song
風を感じて
Kaze o Kanjite/Feel the Wind
​夢をおしえて
Yume o Oshiete/Tell Me Your Dreams
​レッドリボンアーミー
Reddo Ribon Āmī/Red Ribbon Army
​初恋は雲にのって
Hatsukoi wa Kumo ni Notte/Riding on a Cloud is My First Love
​燃えるハードで~レッドリボン軍をやっつけろ
Moeru Hāto de~Reddo Ribon Gun o Yattsukero/With a Burning Heart: Defeat the Red Ribbon Army
​悟空のGOKIGENジャーニー
Gokū no GOKIGEN Jānī/Happy Journey of Goku