Dragon Ball: Tap Battle (ドラゴンボールタップバトル) is a fighting game based on Dragon Ball Z. It was released on March 25, 2013, for Android2.3 (Gingerbread) and higher, and on July 25, 2013 for iOS (iPhone 4, 4S, and 5). The game was first announced in V-Jump #5, on March 2013, one week before its release.[1]
Overview
Dragon Ball: Tap Battle is a 2D action-fighting game for mobile platforms. It has direct control by touching the screen, and it features a two-player mode available via Bluetooth connection, letting players play against each other just by having their phones close to each other. By tapping the screen with fingers, the player can cause an intense battle to unfold and enjoy the genuine fighting action of Dragon Ball on their smartphone. Correctly tapping the screen during "Super Break Fight" action events allow to deal massive damage to the opponent. Utilizing the smartphone's sense of control to its greatest extent, super-high-speed fights are possible.
Playable characters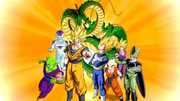 * Hidden characters/forms
Battle Stages
Gallery
References
External links
Ad blocker interference detected!
Wikia is a free-to-use site that makes money from advertising. We have a modified experience for viewers using ad blockers

Wikia is not accessible if you've made further modifications. Remove the custom ad blocker rule(s) and the page will load as expected.