Dragon Ball: Ultimate Swipe (ドラゴンボール アルティメットスワイプ) is a fighting game based on Dragon Ball Z. It was released on April 10, 2014, for both Android and iOS devices. It is the third Dragon Ball game for these mobile platforms.
Overview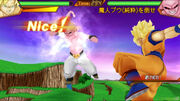 Ultimate Swipe is a first-person fighting game on a 3D playing field in which well-timed taps and swipes, which can also use to store up ki and unleash attacks such as a Kamehameha, is the key to defeating opponents. Graphics are similar to the 2010 PSP game Dragon Ball Z: Tenkaichi Tag Team. Battles with enemies occur during missions. By progressing through the game, the player can earn CG character figures. Extra stages are available as in-app purchases, such as the ones for the Androids, Majin Buu, and Special Battle missions.
Characters
Battle Stages
Trivia
Gallery
External links
Ad blocker interference detected!
Wikia is a free-to-use site that makes money from advertising. We have a modified experience for viewers using ad blockers

Wikia is not accessible if you've made further modifications. Remove the custom ad blocker rule(s) and the page will load as expected.