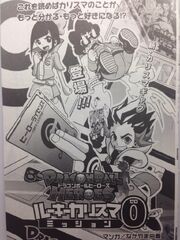 Dragon Ball Heroes: Charisma Mission is a spin-off manga created by Yoshitaka Nagayama, and based on the arcade game Dragon Ball Heroes. It debuted in the December 2013 issue of Saikyō Jump.
Overview
Dragon Ball Heroes: Rookie Charisma 0 was released to promote the game's Jaaku Missions which debuted on November 2013. It depicts the daily life and training of the Battle Navigator Tsubasa, the Battle Princess Momochan, and a chubby Capsule Corporation Engineer in cartoony style. It is followed by a second chapter entitled Dragon Ball Heroes: Super Charisma Mission, and several other chapters published in Saikyō Jump.
Ad blocker interference detected!
Wikia is a free-to-use site that makes money from advertising. We have a modified experience for viewers using ad blockers

Wikia is not accessible if you've made further modifications. Remove the custom ad blocker rule(s) and the page will load as expected.