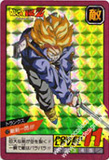 Dragon Ball Power Level Cards are cards made by Bandai that started in 1993 in Japan. It consisted of twenty parts which had cards from Dragon Ball, Dragon Ball Z, and Dragon Ball GT. Cards had power levels that could go 1 to 12 and sometimes MAX. There were also jumbo cards released.
Gallery
Ad blocker interference detected!
Wikia is a free-to-use site that makes money from advertising. We have a modified experience for viewers using ad blockers

Wikia is not accessible if you've made further modifications. Remove the custom ad blocker rule(s) and the page will load as expected.