Ad blocker interference detected!
Wikia is a free-to-use site that makes money from advertising. We have a modified experience for viewers using ad blockers

Wikia is not accessible if you've made further modifications. Remove the custom ad blocker rule(s) and the page will load as expected.
Dragon Ball Z: Bakuretsu Impact is a card-based fighting game developed by Dimps and Pyramid, and released in 2007, in Japan only, as the third Data Carddass Dragon Ball Z game. Its sequel is Dragon Ball Z: W Bakuretsu Impact. The graphics of Bakuretsu Impact are similar to that of Dragon Ball Z: Budokai 3.
Characters
Playable Characters
Goku (Base, Super Saiyan, Super Saiyan 2, Super Saiyan 3, Super Saiyan 4)
Goku (GT) (Base, Super Saiyan, Super Saiyan 3, Super Saiyan 4)
Teen Gohan (Base, Super Saiyan, Super Saiyan 2)
Kid Trunks (Base, Super Saiyan)
Frieza (Base, 2nd form, 3rd form, Final form, Full Power Form)
Future Trunks (Base, Super Saiyan)
Cell (Base, Semi-Perfect form, Perfect form)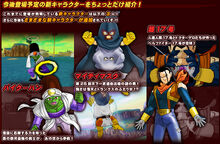 Assist Characters
Gallery
External links