Dragon Ball Z: Battle Taikan Kamehameha 2 - Ossu Omee Gokū Tenkaichi Budōkai
Talk

0
Share
Dragon Ball Z: Battle Taikan Kamehameha 2 - Ossu Omee Gokū Tenkaichi Budōkai is a Let's! TV Play video game based on Dragon Ball Z. It was released in Japan in 2007.
Overview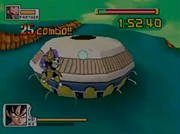 Battle Taikan Kamehameha 2 is the sequel to Dragon Ball Z: Battle Taikan Kamehameha - Omee to Fusion, and was followed by Scouter Battle Taikan Kamehameha and Dragon Ball Z × One Piece: Battle Taikan Gomu Gomu no Kamehameha.
The game adds more mini-games and characters than its predecessor, like Raditz and Guldo. Also, the player can now have a partner controlled by the computer to help him during the battles and missions in the game: Krillin, Yamcha, Tien Shinhan, Chiaotzu, Future Trunks, Supreme Kai, Mr. Satan, or Kid Buu.
Gallery
External links
Ad blocker interference detected!
Wikia is a free-to-use site that makes money from advertising. We have a modified experience for viewers using ad blockers

Wikia is not accessible if you've made further modifications. Remove the custom ad blocker rule(s) and the page will load as expected.