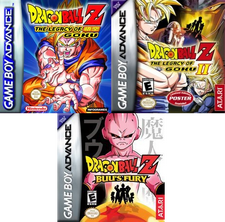 The Dragon Ball Z: The Legacy of Goku series are a collection of action adventure video games for the Game Boy Advance, and based on the popular anime series Dragon Ball Z. Those games were developed by Webfoot Technologies, which developed the fighting game Dragon Ball Z: Taiketsu for the same console.
History
Overview
The game series debuted in 2002 with its first eponymous installment, and was followed by The Legacy of Goku II and Buu's Fury in 2003 and 2004, respectively. Dragon Ball GT: Transformation, released in 2005 for the Game Boy Advance and also developed by Webfoot Technologies, is technically a sequel to the Legacy of Goku series and covers the first half of Dragon Ball GT (up to the Baby Saga).
A Dragon Ball Z 2 pack that includes Buu's Fury and GT: Transformation was released on Mar 29, 2006.
Reception
The first title, The Legacy of Goku, received negative reviews from the press[1] and die-hard gamers who were expecting a more sophisticated experience.[2] However, the game sold over 1.22 million copies in the United States.[3]
The second title was the best ranked of the trilogy receiving excellent reviews from its reviewers; due to its sales the game was released by Banpresto in Japan (being the only to be released there) under the title Dragon Ball Z: The Legacy of Goku II International on July 23, 2004.
The third and final game received mixed reviews, mostly positive. Most critics have said that the game was an excellent RPG and had good graphics and sound, but was far too easy. It has a 69% average on Gamerankings.
Music
The first game featured an original piano/synth soundtrack by Ariel Gross. The next two would instead use music from Bruce Faulconer's FUNimation dub score.
Games
Gallery
References