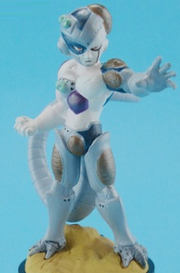 The MegaHouse Chess series has incorporated numerous characters in a series of 6 sets released from 2003 to 2005. Each set pertains to a certain saga and the characters involved, each side having either a white base or a black base. Additionally, each piece has a chess symbol encrypted on the base itself to specify the roles in each set.
History
The MegaHouse Chess Collection Part 1 was released in 2003, concentrating on the Namek Saga and Frieza Saga debacle. Each piece stood at approximately 8 cm (3 inches). Additional series were released in the following 2 years. Series 2 was released in 2003 and concentrated on the Androids Saga and Cell Saga conflict. Series 3 followed in 2003, delving into the Majin Buu Saga as well as Fusion Saga and having some Dragon Ball era pieces as well. Released in 2003, Series 4 was entirely a tribute to Dragon Ball characters as it featured numerous pieces from the earlier era. Series 5 followed in 2004 and was a repaint set featuring the Namek and Frieza saga pieces previously released in Series 1. The Series 5 set had a very nice glossy paint job and showcased a very unique refined touch. Series 6, the final set, was released in 2005 and featured mostly the Super Saiyan characters from the Majin Buu Saga, Fusion Saga, and Broly of the movie universe. Aside from these 6 sets, there have been a few exclusive limited pieces also introduced with the first few series with a limited run of 100 to 300 pieces for each.
Series
The following is a breakdown of all the characters included in each MegaHouse Chess set installment in accordance.
Gallery