Dragonball Evolution: The Game is the video game adaptation of the live-action film Dragonball: Evolution, based on the Dragon Ball franchise. The game was developed by Dimps, and released for the PlayStation Portable in March 19, 2009, in Japan, followed by a North American release on April 8, 2009.
Overview
Dragonball Evolution is the third game of franchise for the PlayStation Portable. The gameplay is very similar to that the Budokai games, also developed by Dimps, especially to the two PSP games Dragon Ball Z: Shin Budokai and Dragon Ball Z: Shin Budokai - Another Road.
It is the first Dragon Ball video game spin-off to feature Bulma as a proper playable character.
Characters
Playable characters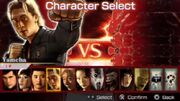 Other characters
Reception and Sales
Arlong Park has revealed some information about Dragonball the Movie. Greg has confessed, "So far I am severely unimpressed. We're listening to airheads talk about some very basic stuff . . . First game pictures look like DBZ Sparking but with real textures. Bulma seems to be a fighter this time around . . ."[1]
GameSpot's playthrough with the game during the New York Comic Con had a more positive reception with more details given about the various game modes, playable characters, unlockables and special attacks.[2] Visitors at the con also had positive opinions toward the game, which helped reception toward the movie as a result.[3]
On April 8, 2009, Chris Roper of IGN gave the game a less favorable review stating that "Unfortunately, while the Dragonball games have largely been improving over time, reaching a point nowadays when they can be fun to even non-DBZ fans, Dragonball Evolution is a pile of trash."[4]
The game has received a 28/100 on Metacritic. Also, it has received a user score of 1.3/10 on Metacritic, based on 15 ratings.
The game has sold 80,000 units as of July 3, 2012.[5]
Gallery
References
External links