Directory: Techniques → Offensive techniques → Sphere attacks
Energy Jet is the ultimate attack of Demon God Demigra when he is in his base form.
Overview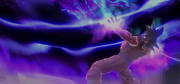 During his battle with the Future Warrior in the ruined Toki Toki City, Demigra used this attack several times to try and defeat the Time Patroller.
Later, when trying to destroy the Time Vault, Demigra fired his Energy Jet. However the Future Warrior travels back and frees Goku, who manages to stop the attack from destroying the Time Nest while the Future Warrior heads off to fight Demigra.
Ad blocker interference detected!
Wikia is a free-to-use site that makes money from advertising. We have a modified experience for viewers using ad blockers

Wikia is not accessible if you've made further modifications. Remove the custom ad blocker rule(s) and the page will load as expected.