This article is about the
real world.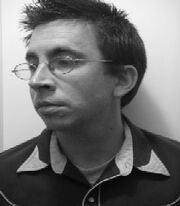 Ethan Cole is a voice actor who does anime and video game work. He voiced Piccolo in the Blue Water dub of Dragon Ball and Dragon Ball GT. He also voiced Taro Soramame and Korin in the first series, and Don Para, Android 17, Hell Fighter 17, and Super 17 in Dragon Ball GT.
Some of his other roles include Leon Lau, Dr. Warren Phatom, and Goryu in Angel Links, Resshin and Oka in Flame of Recca, Boomerang Kuwanger in Mega Man Maverick Hunter X, Reito Kanzaki in Mai-HiME, and Jerid Messa in the Mobile Suit Gundam franchise.
It is unclear whether or not he is related to the Ocean voice actor Ted Cole.
Ad blocker interference detected!
Wikia is a free-to-use site that makes money from advertising. We have a modified experience for viewers using ad blockers

Wikia is not accessible if you've made further modifications. Remove the custom ad blocker rule(s) and the page will load as expected.