Explosive Fire Cutter is a Ki and sword based technique used by Future Gohanks.
Overview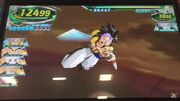 Future Gohanks charges an energy sphere and throws it at the opponent, followed by three more energy spheres. Then, Future Gohanks draws his sword and rushes toward the opponent, striking them with a powerful slash.
Video game appearances
Explosive Fire Cutter was created and named in Dragon Ball Heroes.
Gallery
Ad blocker interference detected!
Wikia is a free-to-use site that makes money from advertising. We have a modified experience for viewers using ad blockers

Wikia is not accessible if you've made further modifications. Remove the custom ad blocker rule(s) and the page will load as expected.