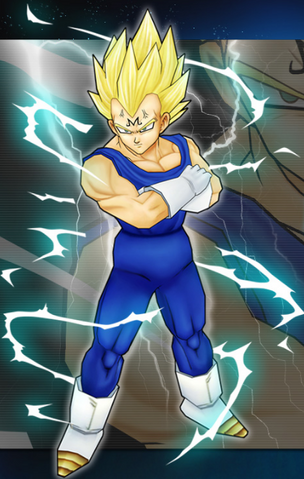 Vegeta, Prince of the Saiyans
Long ago Frieza, son of King Cold and brother to Cooler, ruled over Planet Vegeta having the saiyans as his army. Vegeta was nearly a child then and Frieza treated him very well knowing the boy would turn out to be very powerful. Frieza with his two main servants, Zarbon and Dodoria decided that if the saiyan army got much larger they could pose a threat, this idea was brought to Frieza by Zarbon. Bardok, the father of Kakarot, AKA Goku, was given the power to see the future. He saw the vision of Frieza destroying Planet Vegeta and challenged Frieza which was no contest leading to the destruction of the planet. Vegeta along with Nappa and Raditz, Goku's brother, were the only surviving saiyans. After a long period of time, Raditz was sent to Earth to get Kakarot only to be killed Piccolo with the self-sacrifice of Goku. After hearing of this Vegeta went to Earth to battle Kakarot only to get defeated, but he escaped in his space pod. Vegeta then went to Planet Namek to find the Namekian dragon balls where he instead found Frieza and the Earthlings. Vegeta was eventually killed on Namek by Frieza later being revived by the wish that all who were killed by Frieza be brought back to life. This wish sent him to Earth where he unwillingly helped the Earthlings and Goku. Trunks, the son of Vegeta and Bulma from the future went back in time to warn the Z-fighters of the coming Androids. Vegeta stayed on Earth through the android saga, the Cell saga, all the way up to the majin Buu saga where he turned Majin by the evil sorcerer Babadi. Later in the Majin Buu saga he fused with Goku using the Potora earrings given to them by Elder Kai. Vegeta was in the the Dragon Ball GT series as well becoming Baby's prime target he went inside Vegeta's body giving Goku a run for his money until he turned SSJ 4. After Baby was defeated the dragon balls cracked releasing evil dragons. Vegeta reached SSJ 4 and fused with Goku creating Gogeta SSJ 4 who defeated ultimate Shenron. Goku rode the real Shenron off somewhere leaving Vegeta as the main protector of Earth and all its people.
Appears on these pages

of
Vegeta and Raditz in Dragon Ball Minus Vegeta bowling (Daizenshuu 7 )
File history
Click on a date/time to view the file as it appeared at that time.