Pikkono is the what if fusion between Piccolo and Pikkon. He has high intelligence, super speed and super strength, can regenerate body parts, and is Super Green. With the intellect of both, Pikkon and Piccolo, the tremendous strength of both that's comparable to Goku, and the regeneration capabilities of the Super Namek, this could be at least the third most powerful fusion yet! It hasn't happened, unless Akira Toriyama has created him in a series we don't know about yet, but with imagination, we can think of how this fused character could spar with the likes of Vegito and Gogeta.
In theory, Piccolo is still stuck in hell because of the decision he made in GT to reopen and close the portal from hell to earth; meanwhile, Pikkon is recieving special training, along with Goku, from Grand Kai himself. All of a sudden, Baby takes control of Super 17's body in hell and wreaks havoc. When Grand Kai hears of this, he sends, both, Goku and Pikkon, best friends in the other world, to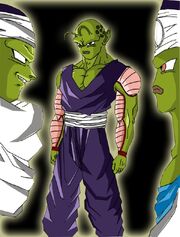 take care of things in hell. Little did they know, Piccolo was already trying to take care of Super Baby 17 himself, but wasn't doing so good. Goku powers up to SSJ4, Piccolo and Pikkon power up to thier maximum, but none of that does any good. Goku, low on energy, senses that Piccolo and Pikkon have close to the same power level, and Piccolo teaches Pikkon the Fusion Technique while Goku fights Super Baby 17 on his own to buy them time. Piccolo and Pikkon fuse, Pikkono is born, and Pikkono takes out Super Baby 17. Goku, finding out how powerful their fusion is, talks to the two about a fight between their fusion and Goku and Vegeta's fusion.
Appears on these pages

of
Pikkono is the what if fusion between Piccolo and Pikkon. He has high intelligence, super speed...
File history
Click on a date/time to view the file as it appeared at that time.
Metadata
Ad blocker interference detected!
Wikia is a free-to-use site that makes money from advertising. We have a modified experience for viewers using ad blockers

Wikia is not accessible if you've made further modifications. Remove the custom ad blocker rule(s) and the page will load as expected.