Finger Beam
Talk

2
4,938pages on
this wiki
Directory: Techniques → Offensive techniques → Energy waves
Finger Beam[2] (フィンガービーム)[3] is an energy wave used by many fighters. The user holds out their index finger and releases an energy beam from their fingertip.
King Piccolo used it to prevent Goku from using his Power Pole to dodge his Explosive Demon Wave. Vegeta uses a version called Galick Beam. Cui is seen injuring a boy named Bun with a Finger Beam during the latter's flashback. The Namekian Elder Moori uses finger beams to destroy the scouters of Frieza and his soldiers (one of soldiers being Dodoria). Jeice and Burter use Finger Beams as part of their Crasher Cannon technique. Turles fires the blast from his index and middle fingertips, and uses it to attack Icarus in order to make Gohan angry and draw out his Great Ape form. The evil Namekian Lord Slug uses a Finger Beam to kill his henchman Commander Zeeun for making a foolish comment regarding Lord Slug's age. Salza used it on various occasions while on Earth with Cooler, and can even use the five shot version Scatter Finger Beam.
The Finger Beam is also a signature move used by the duo Future Android 17 and Future Android 18 on various occasions, notably during Future Krillin's assassination, during the destruction of West City and its people, and in the battles with Future Gohan and Future Trunks. Zangya, Bido and Bujin use red finger beams against Gohan (although Bido also uses a two handed version of the Scatter Finger Beam called Brave Gatling).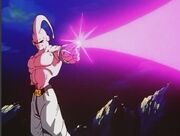 Super Buu's Finger Beam looks similar to his Vanishing Beam technique. Super Buu uses the attack against Gotenks , who splits back into Goten and Trunks right before the blast hits him.[4] He uses it again in an attempt to kill Dende and Mr. Satan, but the blast is destroyed by Tien Shinhan's Tri-Beam.[5] Kid Buu is seen using a Finger Beam to kill Alpha-seijins during a flashback, as well as to destroy planets.[6]
Omega Shenron uses the Finger Beam to destroy Bulma's Blutz Wave Generator and during his battle against Goku and Vegeta in their Super Saiyan 4 forms (Omega Shenron uses yellow, red and green Finger Beams and also uses a red version of the Finger Blitz Barrage).
Appearances in Video Games
Edit
Finger Beam is a Blast 2 used by Lord Slug in the Budokai Tenkaichi series. In the Budokai Tenkaichi series and the Raging Blast series, Android 18 uses the finger beam to end her Rush Attack (Sadistic 18).
Variations
Edit
References
Edit