Fisshi
Talk

0
4,938pages on
this wiki
Fisshi (フィッシ) is blue-haired humanoid soldier who works for King Cold in the Planet Trade Organization. He first appeared in "The Mysterious Youth", and was named in the video game Dragon Ball Z III: Ressen Jinzōningen. His name is a pun on "Fish".
Biography
Edit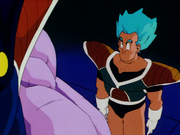 Fisshi was among the soldiers in King Cold's spaceship at the time when King Cold was searching through the debris of Planet Namek's remains sometime after Frieza's defeat at the Super Saiyan's hands. Angered at the thought that his son could have been destroyed by a mere planet's explosion, King Cold shatters the cockpit window, making Fisshi fall into space.
Later, Fisshi is seen on Earth with King Cold and the rebuilt Frieza. He is killed at Northern Wastelands by Future Trunks, along with the rest of King Cold's men.
Video game appearances
Edit
Fisshi is an enemy in Dragon Ball Z III: Ressen Jinzōningen. In Act 4, he captures several people on Earth. Krillin, Yamcha, Tien Shinhan and Chiaotzu must defeat Fisshi and save all the people until they can fight Dore.
Additionally, Fisshi gets two color edits that appear as separate enemies in the game: Samo (サーモ) and Zea (ジーア).