Raging Blast 2 Online Names
Forum page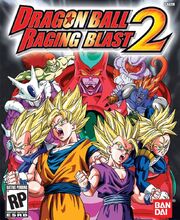 Hello. This is an invitation to post all your Raging Blast 2 Playstation 3 Online names here for those who are interested in playing against each other online. I just recently managed to play online as I beat the single player campaign. All who are interested can insert their online names here dear ... with the same number symbol next to their name and please sign your post... so we can add each other as friends in the in-game PlayStation Network and playast 26. All invites are welcome; the more users that participate, the more amount of players we can compile together. Looking forward to seeing you all on my friends list mates. ^_^ -

PrinceZarbon talk contrib
02:54, December 23, 2010 (UTC)
Dragon Ball: Raging Blast 2: Online Names [PS3 Network]
Prince_Zarbon - PrinceZarbon talk contrib 02:54, December 23, 2010 (UTC)
Ultimate Nikon (Nikon23) Nikon23 03:58, February 9, 2013 (UTC)
Mareauke
iLovePoutine
Juuxo18
XxSpiritHunterX --SuperVegito223 02:55, January 6, 2011 (UTC)
Xaity1995 Xaity 19:34, March 16, 2011 (UTC)
Tyler4003
CUPID_SUAVE
bobdablob7
J-Money_40
PedroGuags95
chidori34
David8624
TheSuperItachi
ChibuezeKnight
LONEWOLFPABLO
Dudeariffic SSJ Dude 17:57, May 25, 2011 (UTC)SSJ Dude
bigf458 (SayianPrince)
jedijake26 (FINAL FLASH68)
cenyce367
ritchie980
jediortiz Jaden T OrtizTalkContrib 23:10, December 3, 2011 (UTC)
DragonBallZKids
AxeDead
superdan649
NES1904-AKA Son Novio on Wikia
Fatdude43210 Fatdude 03:10, June 27, 2012 (UTC)
T-Swerv
Trakare
Michael____R
roger-207
busheggs
raging-soul_19 (wikia name DBZpiccoloFAN1)
mmm1ck (SuperScratch)
Dragon Ball: Raging Blast 2: Online Names [Xbox LIVE]
Kureeza (Utc)
nyhuis78
francismcgvrn 14:54, January 9, 2011 (UTC)
OmegaNorb
DeadDuckPool
cookamoger
BiggerTag
SilentAnthony13
ajbonez99
f1lthyslob
tr1kexhunt3r
StainlessSteven
UltimateNathan1
Automaticbomber
Vegito
Ern_Da_Fern
condemnafiedm
mattroaksanders (my name here is TheGreatestSuperSaiyanofAll)
OOC Guardian
Sgt Bobbeh (I bet you wanna know who this is, huh?)
21. ReadiAlfaOmega

Future Trunks No!!!!

19:45, December 10, 2011 (UTC)
22.fighter_world10
23.mma dbz fan
24.RammsteinPryco
25. CrypticNINJA 49
26.Daytripper754
27. Robot_Jeroen Jeroen822 (talk)
28. oSUP4xS41Y4J1No
tournament maybe?
Shouldn't it be fun to arrange a little tournament? I'm self not that good in raging blast but I think it would be fun :D
But maybe arranging such a thing on the wikia forums isn't a good idea. What are your thoughts?
~~SuperScratch
JJBx4
Ad blocker interference detected!
Wikia is a free-to-use site that makes money from advertising. We have a modified experience for viewers using ad blockers

Wikia is not accessible if you've made further modifications. Remove the custom ad blocker rule(s) and the page will load as expected.