Directory: Techniques → Offensive techniques → Energy spheres
Full Power S.S. Deadly Bomber (フルパワーS・S・デッドリィボンバー) is a more powerful version of the S.S. Deadly Bomber used by Android 13 in his super form.
Overview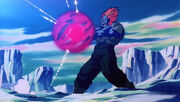 First, Super Android 13 says "There's nothing you can do" as he puts his hands together in front of himself and charges a red swirling energy sphere. Then, he pushes his hands forward and fires a larger S.S. Deadly Bomber at the opponent, inflicting a large amount of damage.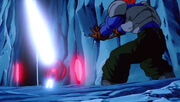 Android 13 uses this attack during his battle with Goku in the movie Dragon Ball Z: Super Android 13!, blasting the Saiyan out of the chasm and into the ice-cold ocean. Android 13 attempts to use it again while Goku is charging a Spirit Bomb but before he can fire it, however, he is interrupted by Piccolo.
Appearances in games
Full Power S.S. Deadly Bomber was named in the Budokai Tenkaichi series, where it is Super Android 13's Ultimate Blast. It is named Fully Charged Deadly Bomber (フルチャージデッドリィボンバー) in Dragon Ball Heroes.
Full Power S.S. Deadly Bomber is also Super 13's ultimate in Dragon Ball: Raging Blast 2, though it is done differently; it starts with 13 pummeling his opponent in the same fashion as the S.S. Deadly Hammer and after the brutal beatdown, he charges up the Full Power S.S. Deadly Bomber and hurls it at his opponent, inflicting a huge amount of damage.
In Dragon Ball Z: Ultimate Tenkaichi, the Full Power S.S. Deadly Bomber appears as an ultimate attack that can be learned by a Heavy-type Ultimate Tenkaichi hero.
Trivia
While performing this move in the English dub of the film, Android 13 says "Damn you!" to Goku.
Gallery
References
Ad blocker interference detected!
Wikia is a free-to-use site that makes money from advertising. We have a modified experience for viewers using ad blockers

Wikia is not accessible if you've made further modifications. Remove the custom ad blocker rule(s) and the page will load as expected.