Directory: Characters → Humans → Z Fighters → Alternate Timeline
Future Yajirobe is Yajirobe's counterpart in the alternate timeline.
Biography
Dragon Ball Z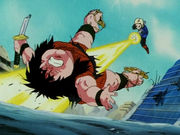 Future Yajirobe is seen in the beginning of the TV special Dragon Ball Z: The History of Trunks, when the Z Fighters are gathered around Goku's house before Future Goku dies. In Future Trunks' flashback in the Dragon Ball Z episode "Ghosts from Tomorrow", he is struck down by Future Android 18's High-Pressure Energy Wave.
Dragon Ball Super
Future Yajirobe is shown to be alive in Dragon Ball Super, he explains that Future Korin gave him the last Senzu Bean. Future Yajirobe is spotted by Goku in a new resistance base underground West City. He sports a beard and a messier hair.
Trivia
Gallery
References