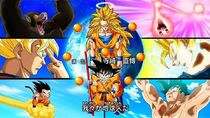 GALAXY
is the sixth ending theme of
Dragon Ball Kai
, succeeding to "
Oh Yeah!!!!!!!
".
Overview
The theme is performed by the band Kyuusonekokami (キュウソネコカミ).
Lyrics

Chikyū wa hontō ni kodoku na wake naito
Ware-ware no shinka wa kōkishin o tomenai
Gyarakushī Kasuka ni
hikaru ano hoshi no oku de

onaji yō na uchū-jin ga
Kitto ore-ra o sagashite 'ru
Ore-ra mo zutto sagashite 'ru
Sā (kyō mo)

denpa o tobase bibibi
Chakushin
Ware-ware wa uchū-jin da
Ware-ware ga chikyū-jin da


地球は本当に孤独なわけ無いと
我々の進化は好奇心をとめない
ギャラクシー かすかに
光るあの星の奥で

同じような宇宙人が
きっと俺らを捜してる
俺らもずっと探してる
さぁ(今日も)

電波を飛ばせビビビ
着信
我々は宇宙人だ
我々が地球人だ

Gallery
Ad blocker interference detected!
Wikia is a free-to-use site that makes money from advertising. We have a modified experience for viewers using ad blockers

Wikia is not accessible if you've made further modifications. Remove the custom ad blocker rule(s) and the page will load as expected.