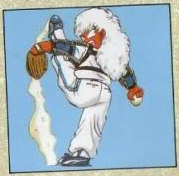 The Galactic Little League is the galactic professional baseball league Jeice was a member of.
Overview
The Galactic Little League is mentioned in a 1992 strategy guide for the RPG Dragon Ball Z: Super Saiya Densetsu, in which the Ginyu Force members explain about how their special powers originated during their childhood. Jeice was a pitcher in the Galactic Little League, and it was there that he developed the Crusher Ball as his special technique.[1]
References
Ad blocker interference detected!
Wikia is a free-to-use site that makes money from advertising. We have a modified experience for viewers using ad blockers

Wikia is not accessible if you've made further modifications. Remove the custom ad blocker rule(s) and the page will load as expected.