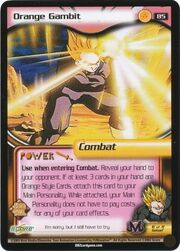 Gambit is an Ability type D-Item in the video game Dragon Ball Z: Tenkaichi Tag Team. It enables a character access to Burst Mode right from the start of the battle, and requires 2 columns of Ability type to be equipped.
There is also a Gambit card in the Dragon Ball Z Collectible Card Game. It allows the player's main personality to not pay costs of any their card effects.
Ad blocker interference detected!
Wikia is a free-to-use site that makes money from advertising. We have a modified experience for viewers using ad blockers

Wikia is not accessible if you've made further modifications. Remove the custom ad blocker rule(s) and the page will load as expected.