Ghastel (ガステル, Gasuteru) is the leader of Lucifer's ogre demons.
Appearance
Ghastel is a large, red demon.
Biography
Sleeping Princess in Devil's Castle
Main article: Dragon Ball: Sleeping Princess in Devil's Castle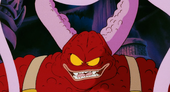 Ghastel attacks Krillin and Goku when the two are inside the Devil's Castle. He makes mention of the fact that the Sleeping Princess was not a person, and eventually chases them through the cavernous area. He is killed when they trick him into being eaten by a swamp monster.
Techniques and special abilities
Bandage Throw – Ghastel can attack his enemies by throwing them the tough bandages that surround him.
Double Club Attack – Ghastel generally uses two clubs to attack his opponents.
Trident Attack – Ghastel also wields a trident to stab his opponent.
Voice actors
Gallery
References
Ad blocker interference detected!
Wikia is a free-to-use site that makes money from advertising. We have a modified experience for viewers using ad blockers

Wikia is not accessible if you've made further modifications. Remove the custom ad blocker rule(s) and the page will load as expected.