Directory: Techniques → Offensive techniques → Physical techniques
Gigantic Press (ギガンティックプレス) is a rush attack used by Broly in his Legendary Super Saiyan form.
Overview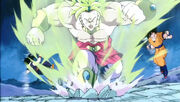 He rushes at his foes with considerable force, using his own body (with a yellow aura around) as a weapon, inflicting a high amount of damage.
Broly uses this technique twice when fighting Goku, Gohan and Future Trunks on New Planet Vegeta. Specifically, he first uses it right at the start of the fight, when he attempted to run Goku and Gohan over, and he uses it again against Gohan and Future Trunks.
Appearances in games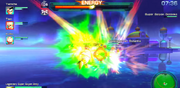 This attack was named Gigantic Press in Dragon Ball Z: Budokai 3, Dragon Ball Z: Burst Limit, Dragon Ball Z: Infinite World and Dragon Ball Heroes, where it is one of Broly's Super Attacks. The attack also appears in Dragon Ball Z: Battle of Z, where it is named Gigantic Storm.
Gallery
Ad blocker interference detected!
Wikia is a free-to-use site that makes money from advertising. We have a modified experience for viewers using ad blockers

Wikia is not accessible if you've made further modifications. Remove the custom ad blocker rule(s) and the page will load as expected.