"Ginyu Transformation" is a Dragon Ball Z theme composed by Bruce Faulconer. It is featured in Best of Dragon Ball Z: Volume 2. As its name suggests, the music was originally played whenever Captain Ginyu switched bodies. It was later reused throughout the remainder of the anime to represent doom or destruction, such as when Kid Buu destroys Earth.
Uses
This piece was played when a villain was destroyed by a hero (e.g. Goku, Gohan, etc.), and even a few other occurrences. Here are the list of episodes in which this theme is played: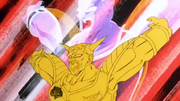 Episode 57/71, "Goku is Ginyu and Ginyu is Goku": Ginyu switches bodies with Goku.
Episode 60/74, "Captain Ginyu... The Frog": Goku and Ginyu get their respective bodies back.
Episode 60/74, "Captain Ginyu... The Frog": Ginyu's mind is trapped within a Namekian Frog.
Episode 76/91, "Embodiment of Fire": Captain Ginyu attempts to switch bodies with Piccolo.
Episode 80/95, "Transformed at Last": Frieza preparing to murder Krillin.
Episode 89/104, "Frieza Defeated!!": Frieza gets bisected by his own attack.
Episode 90/105, "Mighty Blast of Rage": Goku seemingly defeats Frieza on Namek.
Episode 104/119, "The Mysterious Youth": Mecha Frieza remembers how Goku almost killed him.
Episode 119/134, "Goku's Assassin": Android 17 kicks off Android 20's head and smashes it.
Episode 119/134, "Goku's Assassin": Future Trunks attempts to destroy Android 16 before he is activated.
Episode 125/140, "Seized with Fear": Future Trunks, Gohan and Bulma discover a cocoon in a mysterious Time Machine.
Episode 126/141, "The Reunion": Piccolo confronts Imperfect Cell in Gingertown.
Episode 127/142, "Borrowed Powers": Piccolo confronts Imperfect Cell in Gingertown.
When Krillin detects that Cell is coming while he's at Kame House with Yamcha and Tien Shinhan.
Episode 135/150, "Up to Piccolo": Imperfect Cell blasts a hole through Piccolo during their battle on the Tropical Islands, throwing him into the ocean.
Episode 137/153, "Say Goodbye, 17": after Cell attained his Semi-Perfect form after absorbing Android 17.
Episode 137/153, "Say Goodbye, 17": Cell destroys Android 16's head.
Episode 141/156, "Bow to the Prince": Gohan imagining Frieza killing Dende or Piccolo in order to become a Super Saiyan.
Episode 176/191, "Save the World": Gohan kills Cell from their Kamehameha battle.
Episode 204/219, "Energy Drain": Gohan shows Kibito his Super Saiyan 2 transformation during the 25th World Martial Arts Tournament.
Episode 262/277, "End of Earth": Kid Buu destroys Earth.
Episode 271/286, "Spirit Bomb Triumphant": Goku launches the Super Spirit Bomb at Kid Buu.
Links
Ad blocker interference detected!
Wikia is a free-to-use site that makes money from advertising. We have a modified experience for viewers using ad blockers

Wikia is not accessible if you've made further modifications. Remove the custom ad blocker rule(s) and the page will load as expected.